UC Tech is the annual University of California Technology Conference (formerly known as the University of California Computing Services Conference - UCCSC). Each summer a different UC campus hosts UC Tech. The first "conference" was at UC Santa Cruz in 1982. The focus was strictly on academic software and it was held in a conference room on campus with 21 people in attendance. This was the beginning of UC Tech. UCTech brings around 700 IT professionals, from across the University of California, together to share knowledge to better support our University.
Virtual Background
Here's a virtual background to use specifically for UC Tech. Use of this background is optional for both presenters and attendees. Alternatively, there are lots more to choose from that have images of UCLA. Download Zoom background.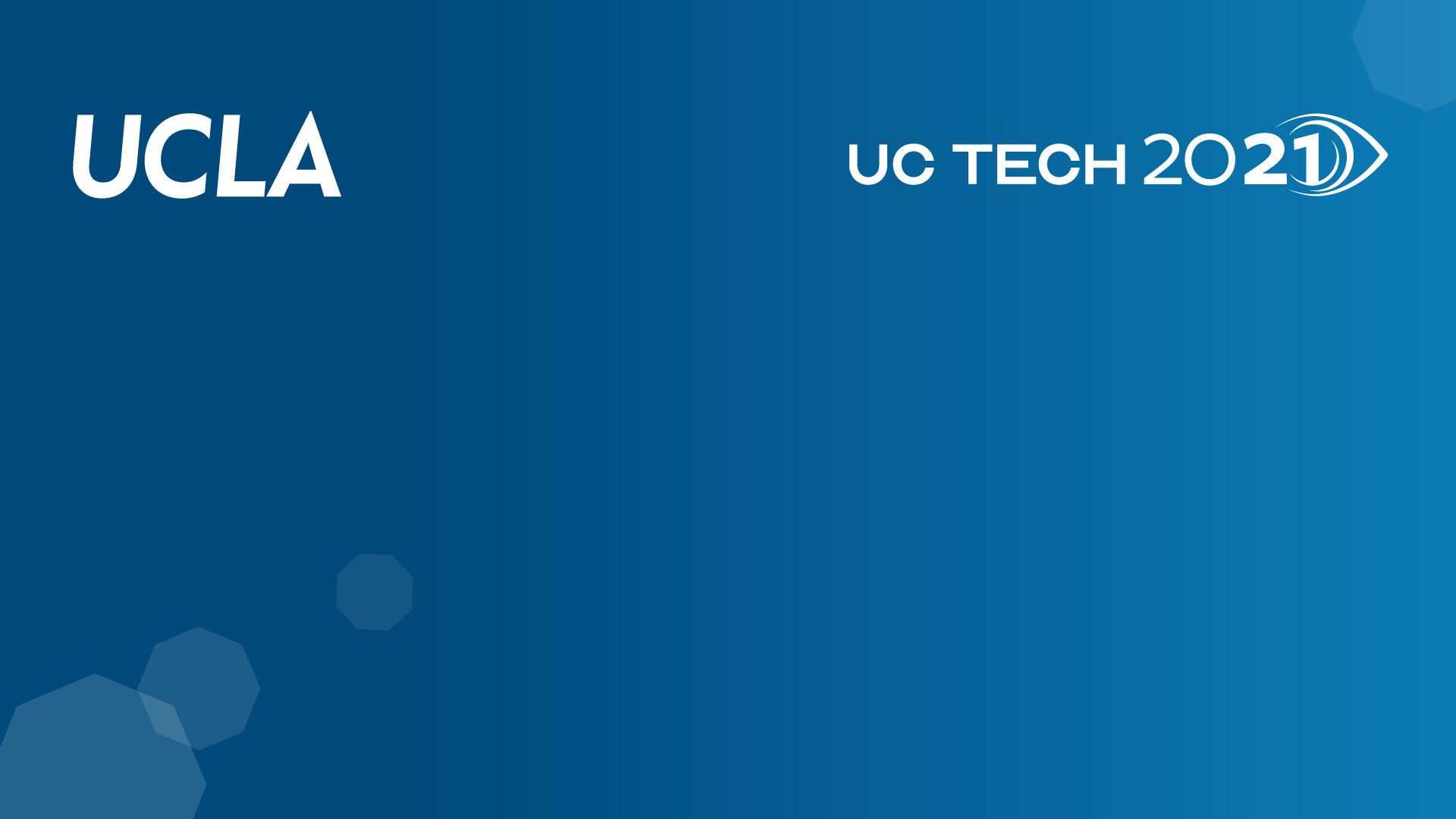 Who should attend UC Tech?
UCTech welcomes all UC staff and faculty who have an association with or interest in information technology. Subjects for presentations are generally intended for IT professionals, but numerous sessions cover broader subjects: project management, service delivery, procurement, etc. Participants include technical support staff, system administrators, unit directors and managers, librarians, information security experts, service managers, and others. If you want to learn how other campuses address technology issues and challenges or build a network of professional IT colleagues from the UC system, you should attend UCTech 2021.
What is a UCTech Ambassador?
Ambassadors represent their UC campus in the planning and coordination of the UCTech conference. Ambassadors use communication channels and contact networks to raise awareness and enthusiasm for UCTech on their campus. Ambassadors attend UCTech and serve as a conduit of information from the conference to the members of their campus who are in attendance.
Announcing the UC Tech Virtual Program:
In place of the 2020 UC Tech Conference we hosted 3 virtual events. You may still view the schedules and some of the recordings:
August 11, 2020: THEME: The UC Response to COVID-19
Topics to include remote working, learning and research and UC Health IT efforts in response to COVID-19
November 10, 2020: THEME: The Power of 10; Stronger Together
Topics to include cloud, communication, community and collaboration
January 26, 2021: THEME: Together We Rise
Topics to include professional development, women in tech, diversity and accessibility